Din, Muzika, we Uyghurlar
Erkin Sidiq
2014-yili 4-ayning 24-küni
Kona yéziq nusxisi

http://bbs.bagdax.cn/thread-24528-1-1.html
http://bbs.izdinix.com/forum.php?mod=viewthread&tid=58088&page=1&extra=#pid359853
http://bbs.misranim.com/thread-122942-1-1.html
[PDF Nusxisi]
Ilawe: Bir «madina» isimlik qérindishimiz manga bir inkas qaldurup, mendin muzika we ottura yol heqqide bezi nazuk so'allarni soraptu. Bu ikki mesile nurghun qérindashlirimiz köngül bölidighan mesile bolghachqa, men u qérindishimizning inkasi bilen özümning jawabini bu yerde bir ayrim téma qilip yollidim. Men qérindashlardin özlirining bu mesililer üstide oylighanlirini biz bilen ortaqlishishini ümid qilimen.
1. «madina» Qérindishimizning Misranimdiki Inkasi:
Essalamu eleykum werehmitullahi weberikatuhu, bilimxumar qérindishim. Sizning barliq témiliringizni oqup özümning yéqindin biri qiliwatqan ishlirim üstide tepekkur qilip béqip, dilim bir qisim qorqunchlardin emin boldi. Allah rehmet qilsun. Men yéqinda bir ündidar topi qurghan, hem nurghun ilimlik hem ilimge qiziqidighan hem ilim izdesh yolida qaymuquwatqan qérindashlarni bir top qilip qurup, uninggha bilimxumarlar topi dep isim qoyghan. Elwette bu isimni qollinishim sizning namingizni anglashtin hem körüshtin burun hem sizning témiliringizdin pütünley bixewer halette idi. Emma bu topqa kirgenliki qérindashlar peqet anglashqila qiziqip özi yoluqqan mesile yaki diniy témilar üstide pikir yürgüzüshtin qorqatti, peqet menla bir qisim peyghembirimizning güzel exlaqliri üstide, özimizdiki xataliq hem özgertishke tégishlik mesililer üstide sözlisemmu lékin mez'hep we bir qisim ixtilapi mesililer heqqide söz ichishtin qorqattim, nechche kündin biri buninggha munasiwetlik témilarni tolimu qiziqip oqup nurghun bilimge ige boldum, chüshinishim chongqurlashti. Emdi men öz pikrimde ixtilap peyda qilghan bir mesile üstide yeni mushu témigha munasiwetlik bolghan bir mezmunni sorighum bar, jawabingizgha teshnamen. Islamdiki ottura yolni tutup méngish mesiliside, naxsha muzikigha bolghan höküm we naxsha muzikining halal haramliq mesilisidimu otturiche yolni tutush kérekmu? Mesilen bezibir petiwalarda déyilgendek «mezmuni saghlam bolghan naxsha muzikilarni anglash» qa bolamdu? Islamda naxsha muzikining hökümi qandaq? Hedislerdichu? Peyghembirimizning terjimihalliridichu? Burun ghazatlargha chiqqanda naxsha muzika hem neghme nawa bilen bérish, hetta ayallirini bille ilip bérish sahabilerni ishimiti yaki mushriklarningmu?biz buningdimu dewrge maslashturup ottura yolni tutushmiz kérekmu? Din yoligha emdi méngiwatqan qérindashlirimizning din yolini murekkep körüp yaltiyiwalmasliqi üchün ulargha shundaq petiwalarni körsitishmiz toghrimu? Yol körsitishingizni ümid qilimen.
http://bbs.misranim.com/thread-122058-28-1.html
2. Méning Jawabim:
Essalamu eleykum madina qérindishim,
Yaxshimusiz? Méning din toghrisidiki témilirimgha chüshken inkaslarning köpinchisi téma bilen munasiwetsiz bolghachqa, men bezide sizningkidek orunluq so'allarnimu körmey qéliwatimen. Qarisam siz bu so'alni yollighili 7 kün bolup qaptu. Kechürüng.
Siz intayin nazuk mesilidin birni otturigha qoyupsiz. Bu so'al méning kallamda shekillen'gilimu xéli uzun bolup qaldi. Téxi yéqinda uninggha jawab tépishqa bashlighan bolup, özümning pilaniche özümning kéyinki bir qisim témilirimda Yasir Qazining mushu mesilige oxshash bizning turmushimiz bilen biwasite munasiwetlik mesililer üstide sözligen léksiyilirining hemmisini bir-birlep téma qilip yollimaqchi. Insha'alla shuningdin kéyin siz we sizge oxshash bashqa nurghun qérindashlar bu mesililer üstide bir mukemmel chüshenchige ige bolup qalar.
Emdi sizning so'alingizgha kelsek, méning Yasir Qazi léksiyiliridin igiligen bilimim mundaq: Musulmanliq bir qanche derijige ayrilidu (men bunimu kéyinche bir téma qilip yollaymen). Musulmanliqning eng töwen shertliri 5 perzni toluq ada qilishtin ibaret. Sizning xewiringizde bolghinidek, muzika anglimasliq héliqi 5 perzning birsi emes. Shundaq bolghachqa, muzika anglash bir ademning Musulmanliq salahiyitini bikar qiliwetmeydu. Emma, Islamda tariliq muzika eswablirini chélish we muzika anglash haram bolup, bundaq muzikilarni anglighanlar gunah ötküzidu. Bu xuddi haraq ichish we zina ishlirigha bérilish qatarliqlar bilen oxshash xildiki gunahlardur. Yasir Qazining éytishiche muzika anglash bilen Qur'anni oqush we oylashning insanlarning rohiy dunyasida peyda qilidighan tesiri öz-ara oxshiship kétidighan bolup, siz ularning birsini qilsingiz, könglingizde yene birsining tesirini qobul qilish imkaniyiti qalmaydiken. Yasir Qazi nurghun gunahlarni haraq ichish bilen sélishturidighan bolup, muzika anglashning haraq ichish bilen sélishturghanda gunahliq derijisining qandaqraq bolidighanliqi ésimde qalmaptu. Xudayim buyrusa men kéyinche bu mesilini özümning bir yazmisida otturigha qoyimen.
Muzikining haram ikenlikini bilgendin men bir qanche kün xéli rahetsizlendim. Sewebi, Uyghurlar üchün milliy kimlikini saqlashta eqide we ibadettin kéyin eng muhim rol oynap kéliwatqan nerse saz, muzika, usul we sorun medeniyetliridin ibaret bolup, bular Uyghurlar üchün buningdin kéyinmu burunqi her qandaq waqittikige qarighanda muhimraq. Undaqta qandaq qilish kérek?
Men bu so'algha hazirche jawab bérishni xalimaymen. Uning ornigha, méning mundaq bir so'alning jawabini bilgüm bar: Uyghurlar Islam dinini qobul qilghanda, saz, muzika, usul we sorun medeniyiti Uyghurlarda alliqachan shekillinip bolghanmu, yaki bu medeniyetler uningdin kéyin shekillen'genmu? Eger kéyin shekillen'gen bolsa, Uyghurlar eyni waqitta bu medeniyetning bir qismining haram ikenlikini bilmemti?
Uyghurlarning saz, muzika we usul bilen shughullinish tarixi xéli uzun. Bu dégenlik, Uyghurlarning mushu ishlar bilen gunah ötküzüsh tariximu xéli uzun, dégenlik bolidu. Undaqta Uyghurlar özining bu jehettiki gunahini qandaq bir terep qilip keldi? Men bu so'algha bizning diniy ziyaliylirimizning jawab bérip béqishini ümid qilimen.
Men Yasir Qazining léksiyilirini anglap chüshen'gen bir nerse shuki, Allah we Muhemmed Eleyhissalam üchün eqide bilen ibadettin kéyin eng muhim orunda turidighan nerse yaxshi exlaqtin ibaret. Allah yaxshi exlaqqa ige kishilerni intayin yuqiri derijide mukapatlaydu. Yaxshi exlaqqa ige kishiler özlirining yaxshi ishliri we sawabliq ishliri bilen özlirining yaman ishliri we gunahlirini yuyuwételeydu. Bashqa xéli köp milletler bilen sélishturghanda, Uyghurlar bir nahayiti exlaqliq millet. Yaxshi ishlarni, sawabliq ishlarni köp qilidighan millet. Méhriban, köyümchan, we aq köngül millet. Shunglashqa Allah Uyghurlarning muzika jehettiki bir qisim gunahlirini ularning yaxshi exlaqigha, ular qilghan yaxshi ishlargha, we ular qilghan sawabliq ishlargha asaslinip turup kechürüm qiliwetken bolushi we kechürüm qiliwétishi mumkin bolup, biz hemmimiz Allahtin shuni tileyli.
Bu men hazirghiche ige bolghan chüshenche bolup, uning bezi yerliri xata bolushimu mumkin. Xudayim buyrusa men dawamliq izdinip, bu mesililer üstide bir mukemmel chüshenche hasil qilishqa tirishimen. Shundaqla Allah xalisa igiligen bilimlerni téma qilip yollaymen.
Islamdiki ottura yol hergizmu Islam qanunlirini bir ademning özi xalighanche özgertishige yol qoymaydu. Mesilen, bamdat namizini kün chiqishtin burun oqup bolush kérek. Emma bireylen qopup «Islam ottura yolda mangidighan din bolghandikin, men bügün bamdat namizini etigen sa'et 8 de oquychu» dése hergizmu bolmaydu. Islam dinining bir qisim sheri'et qanunlirining qattiqliq derijisi Musulmanlar qiyinchiliqqa duch kelgende töwenlitilidu. Mesilen, achliqta ölüp kétish xewpige duch kelgende, bir Musulman özi ölüp qalghan haywanning haram göshini yése bolidu. Bu chaghda u gösh halalliqqa özgiridu. Bu waqitta sizning u göshni yémeslikingiz haram bolidu. Emma buningmu sherti bar. Mesilen, siz peqet qorsiqingiz azraqla toyup, ölüp qalmighudekla yésingiz bolidu. Eger uni qorsiqingiz yérilip kétey dep qalghuche yésingiz u haram bolidu. Adettiki Musulmanlar bundaq ishlarda özliri qarar chiqarmasliqi, Qur'anni özi xalighanche chüshiniwalmasliqi, mushundaq Islam qanunlirigha bérip taqilidighan ishlarda choqum diniy ölima, diniy ziyaliy we imamlardin yolyoruq sorishi kérek. Men bu mesile üstidimu kéyinche ayrim toxtilimen.
Axirida sizning manga ishinip, yuqiriqidek so'allarni sorighiningizgha köptin-köp rehmet éytimen.
3. Yasir Qazining Muzika Heqqide Dégenliri
Men hazir torni izdep, Yasir Qazining 2013-yili 4-Yanwar küni sözligen bir qisqa nutqini taptim [1]. Yasir Qazi bu nutqini melum bir radi'o istansisining so'al-jawab programmisida sözligendek qilidu (méning tapqinim bir yutub sin höjjiti). Töwendikisi Yasir Qazining muzika heqqide dégen sözining eynen terjimisi:
«Men bizning dinimizda shamal bilen tara arqiliq awaz chiqiridighan chalghu eswablarning muzikisigha yol qoyulmaydu, dep oylaymen. Dap bilen dumbaqqa bizning dinimiz yol qoyidu. Néme üchün bezi Islam dini téléwizor qanalliri muzikilargha yol qoyidu, dégen mesilige kelsek, bu ashu téléwizor qanallirining özlirining ishi bolup, men ularning diréktorlar guruppisida yaki petiwa guruppisida yoq. Muzika mesiliside hazir intayin keng da'irilik köz-qarashlar saqliniwatidu. Méning muzikini haram yaki halal déyishim, u méning shexsiy pikrim. Beziler méning bu pikrimge qoshulmaydu. Dunyagha tonulghan diniy ziyaliylarning nurghunliri bezi shertler astida muzikigha yol qoysa bolidu, dep qaraydu. Hazir muzikilarni qoyuwétidighan téléwizor qanallirigha bu heqtiki petiwalarni ene shundaq diniy ziyaliylar chiqirip bergen bolushi mumkin. Shunga u téléwizor qanalliri ashu petiwalar boyiche ish qiliwatqan bolushi mumkin. Eger siz yaki ular mendin sorisa, men shamal we tara arqiliq awaz chiqiridighan chalghu eswablar dinimizda cheklen'gen, emma dap bilen dumbaqqa dinimizda yol qoyulghan, deymen. Bu ishni eng yaxshi bilgüchi Allahdur.»
Yasir Qazi köpinche léksiye we doklatlirida dawamliq türde Qur'an bilen hedistin neqil keltüridighan bolup, bu nutuqta u birer qétimmu undaq qilmidi.
«mollir» isimlik qérindishimiz http://bbs.bagdax.cn/thread-24528-2-1.html ke melum bir «Dunya Islam Qurultiyi» échilish murasimining sin höjjitini chiqirip qoyghan bolup, bu murasimmu bir er naxshichining naxsha éytishi bilen bashlinidiken.
Eger Qur'an Kerim yaki hedislerde muzika heqqide sözlen'gen mezmunlar bar bolup, ularni bilidighan qérindashlar bolsa, uni mushu yerge inkas sheklide yollap qoyushini ümid qilimen.
4. Yüsüp Qerdawining Muzika Heqqide Dégenliri
Islam dinigha qiziqidighan uyghur oqurmenlerning köpinchisi Yüsüp Qerdawi (Yusuf al-Qaradawi) ni bilishi mumkin. Shundaq bolsimu u kishini anche bilmeydighan qérindashlar üchün men bu yerde aldi bilen u kishini qisqiche tonushturup ötey [2].
Doktor Yüsüp Qerdawi 1926-yili tughulghan, misirliq eqidishunas. U eljezire téléwizori tarqitidighan «Sheri'et we hayat» namliq programma bilen dang chiqarghan bolup, dunya boyiche bu programmini köridighan kishilerning sani 60 milyondin ashidiken. Yüsüp Qerdawini dangliq qilghan yene bir ish, u 1977-yili yardemliship qurghan «Islam tor béti» (Islam Online) bolup, u hazirmu mezkur tor bétige bash diniy ziyaliy bolup xizmet qiliwatidu. Yüsüp Qerdawi 120 parchidin köprek kitab chiqarghan bolup, ularning biri «Islamdiki Halal we Haram» (The Lawful and the Prohibited in Islam) dur. Yüsüp Qerdawi islam tetqiqatigha qoshqan zor töhpisi bilen jem'iy 8 dane xelq'araliq mukapatqa érishken bolup, u hazir téxiche hayat, tesiri eng zor diniy ziyaliylarning biri.
Yüsüp Qerdawi 2010-yili 1-féwral küni muzika heqqide bir parche maqale yézip, uni "islam tor béti" de élan qilghan [3]. Kéyin bu maqale bashqa yerlerdimu köchürüp élan qilin'ghan bolup, uning biri en'gliyide chiqidighan musulmanlarning zhurnili «Güllinish» (The Revival) tin ibaret [4]. Töwendikisi ashu maqalining in'glizche nusxisidiki bir qanche abzaslirining eynen terjimisi. Ularni men terjime qildim. Men se'udi erebistan, misir we türkiyidiki islam dinini obdan bilidighan qérindashlardin birersining Yüsüp Qerdawi maqalisining esli nusxisini tépip, uni uyghurchigha toluq tékisti bilen terjime qilip, uyghur diyaridiki uyghurche tor betlirige chiqirip qoyushini ümid qilimen. Buning uyghurlar neqeder muhim ikenlikini men sözlep olturmisammu hemmeylen obdan bilidu.
Töwendikisi Yüsüp Qerdawining maqalisidiki mezmunlar:
«Meyli muzika tengkesh qilin'ghan bolsun yaki qilinmighan bolsun, naxsha éytish mesilisi omumen bir ziddiyetlik mesile. Buning bilen munasiwetlik bolghan bezi mesililerde musulman ziyaliylar birlikke kélelidi, yene bezi mesililerde bolsa birlikke kélelmidi.
Dinda chakiniliq, shallaqliq yaki gunahliqni peyda qilidighan barliq shekildiki naxsha we muzikilarning cheklen'genliki heqqide barliq diniy ziyaliylar ortaq közqarashqa ige.
Chalghu eswablargha kelsek, ularning cheklen'genliki heqqidiki ispat ajiz bolup, bu mesilige mas kélidighan qa'idide mundaq déyilgen: eger melum bir ishning cheklen'genliki heqqide sheri'et tékisti mewjut bolmaydiken, u ishqa eslide yol qoyulghan bolidu.
Naxsha éytish lerzan sözlerdin bashqa nerse emes; eger bir naxshining tékisti yaxshi bolsa, u naxshimu yaxshi bolghan bolidu; eger bir naxshining tékisti nachar bolsa, u naxshimu nachar naxsha bolidu. Cheklen'gen mezmun'gha ige naxsha tékistlirige yol qoyulmaydu. Eger bir naxsha tékisti ritim bilen muzikigha qoshulup kelse qandaq bolidu?
Ziyaliylar chalghu eswablargha qoshulup kelmigen hemde tékisti cheklenmigen naxshilarni éytishqa yol qoyulidighanliqida birdek pikirge ige. Bundaq naxshilarni éytishqa peqet bir qisim alahide sorunlarda yol qoyulidighan bolup, bu sorunlar toy, bayram, seperdin qaytip kelgen bir kishini qarshi élish, we shuninggha oxshash ehwallarni öz ichige alidu. (Mushu yerge kelgende bir qisim hedisler ispat süpitide bérilgen).»
«Chalghu eswablar mesiliside ziyaliylar otturisida ixtilap bar.
--Bir qisim ziyaliylar meyli chalghu eswabqa qoshulup kelsun-kelmisun, hemme shekildiki naxsha éytishlargha yol qoyidu. Hetta shundaq qilishni tewsiye qilidu.
--Ikkinchi xildiki ziyaliylar peqet muzikiliq eswablar bilen bille orunlanmighan naxsha éytishlarghila yol qoyidu.
--Üchinchi xildiki ziyaliylar bolsa meyli chalghu eswablar bilen bille yaki ayrim orunlansun, naxsha éytishni pütünley chekleydu; ular naxsha éytishni hetta bir chong gunah, dep hésablaydu. (bu yerde 3-xildiki ziyaliylar ispat süpitide paydilan'ghan hedisler bayan qilin'ghan.)»
«Yuqiridiki bayanlargha asaslinip turup, «naxsha éytish haram» dégen közqarashtiki ziyaliylar pakit qilip ishletken diniy tékistlerning beziliri müjmel bolup, qalghanliri yalghan ikenlikini körüwalghili bolidu. Mushu ishta «Muhemmed eleyhissalamgha tewe» dep ishlitilgen hedislerning héch qaysisi naxsha we chalghu eswablarni cheklesh hökümining ispati bolalmaydu. Uning üstige, Ibin Hezim, Malik, Ibin Henbel we Esh-shafi'ining egeshküchiliri yuqiridiki hedislerning hemmisini «ajiz hedisler», dep jakarlighan.»
Yuqiridiki mezmun töwendiki 3-menbedin élindi.
5. Misir Ez'her Uniwérsitétining Aliy Muftisining Petiwasi
Men bügün Misir Ez'her Uniwérsitétining aliy muftisining muzika heqqide chiqarghan bir petiwasi heqqidiki bir In'glizche maqalini taptim [5]. Bu maqale töwendiki 4-menbede bar. Men chet eldiki Islam dinini obdan bilidighan qérindashlardin birersining mezkur petiwaning esli nusxisini tépip, uni Uyghurchigha toluq tékisti bilen terjime qilip, Uyghur diyaridiki Uyghurche tor betlirige chiqirip qoyushini ümid qilimen.
Töwendikisi 4-menbede bérilgen, mezkur petiwaning bir qisim mezmuni bolup, 4-menbediki In'glizche maqalida mezkur petiwagha asas bolidighan bir qisim ispatlarmu tepsiliy körsitilgen.
«Hemmeylenning birdek qoshulushi bilen, alahide waqitlarda naghra we bashqa chalghu eswablarni chélishqa yol qoyulidighan boldi.
Eger exlaqsiz we gunah bolidighan ish-heriketler bilen qoshulup ketmigenla bolsa, yaki haram ishlarni peyda qilish üchün bahane ornida paydilanmighanla bolsa, shundaqla bir ademni ibadet qilish mejburiyitini ada qilalmasliq derijisigiche meptun qiliwalmighanla bolsa, muzika anglash, muzikiliq yighilishlargha qatnishish, hemde hemme türdiki chalghu eswablarni chélishni öginishke yol qoyulidu.»
6. Xulase
Yüsüp Qerdawining yuqiridiki maqalisige asaslan'ghanda, naxsha we muzika mesiliside Islam diniy ziyaliyliri hazir 3 guruhqa bölün'gen. Bu 3 guruhning tutqan yolliri töwendikidek:
(1) Meyli chalghu eswabqa qoshulup kelsun-kelmisun, hemme shekildiki naxsha éytishlargha yol qoyidu. Hetta shundaq qilishni tewsiye qilidu.
(2) Peqet muzikiliq eswablar bilen bille orunlanmighan naxsha éytishlarghila yol qoyidu.
(3) Meyli chalghu eswablar bilen bille yaki ayrim orunlansun, naxsha éytishni pütünley chekleydu; naxsha éytishni hetta bir chong gunah dep hésablaydu.
Naxsha-muzika mesiliside, Yasir Qazi yuqiridiki 3-guruhqa tewe iken.
Paydilinish Matériyalliri:
[1] Is Music Halal or Haraam? - Shaykh Yasir Qadhi | 4th January 2013
https://www.youtube.com/watch?v=4sci3iIX7Dc
[2] Yusuf al-Qaradawi
http://en.wikipedia.org/wiki/Yusuf_al-Qaradawi
[3] Yusuf Al Qaradawi on Music
http://www.therevival.co.uk/yusuf-al-qaradawi-on-music
[4] Fatwa on music by the Grand Mufti and Shaykh of Al-Azhar
http://islamictext.wordpress.com/music-azhar-fatwa/
[5] The Revival
http://www.therevival.co.uk/the-revival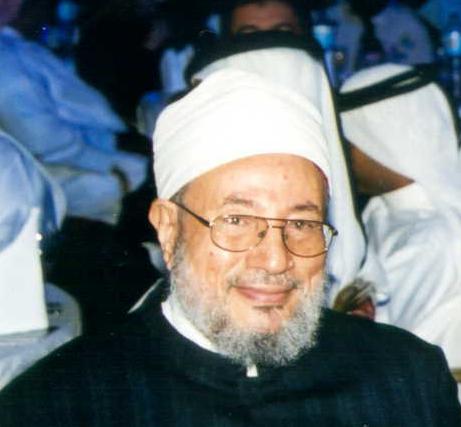 1-Resim: Yüsüp Qerdawi
---
© Copyright 2004 Uyghur Meripet Torbéti